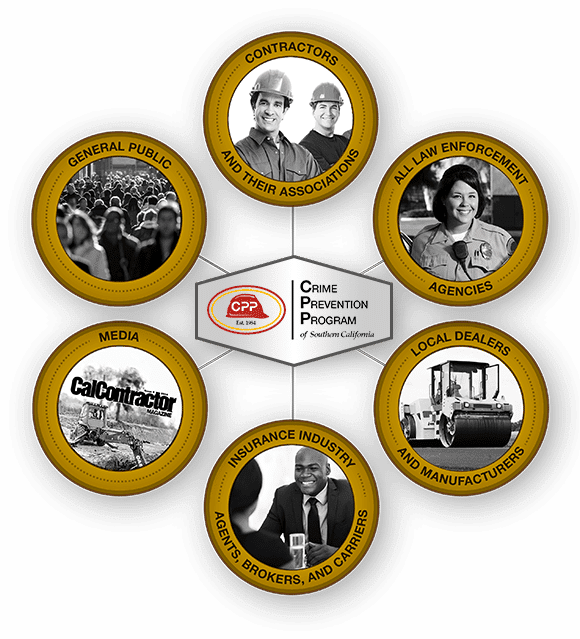 Please take a moment to update your company's contact information so that CPP has the information it needs to better serve you.
Construction Industry Crime Prevention Program of Southern California Members
Crime Prevention Program of Southern California members represent the diversity of the construction industry and value the array of resources CPP provides.
Alcorn Fencing Co.
Amarok
ARA Insurance
Atkinson Construction, LLC
Boudreau Pipeline
C5 Equipment Rentals
Cal West Underground, Inc.
California Rental Association
CATTRAC Construction
Circle M Contractors, Inc.
City Rentals/Apex Rentals
Coastline Equipment
Cooper Engineering, Inc
ECA of SoCal
Economy Equipment Rentals
Excel Paving Co. / GAP Equipment
F & B Rentals  (a.k.a. AAA Rentals)
FCI (Flatiron)
Ferreira Construction
FMB Truck Outfitters
Fryman Management
GMGS Risk Management & Insurance Services
Griffith Company
Hawthorne Machinery / Rent-It Service
Howard Contracting Inc.
J.F. Shea Construction Co. Inc.

J & M Concrete Contractors, Inc.

LaLonde Equipment Rentals
Larry Jacinto Construction
Mid-Coast Transit Constructors
Mike Bubalo Construction Co.
Miller Blades Inc.
Myers & Sons Construction
Nobest Inc.
Northwest Excavating Inc.
OC405 Partners JV
OHL USA, Inc.
Ortiz Enterprises
Pascal & Ludwig
Paulus Engineering Inc.
Peterson/Chase General Engineering Construction
Powell Constructors, Inc.
Quality Equipment Rentals, Inc
Quinn Rental Services
Rentrac Inc. (aka Growest aka Landfill Resource Recovery)
Ritchie Bros. Auctioneers
Riverside Construction Co.
Riverside County Flood Control District

Robert Bell Insurance Brokers Inc.

Rockforce Construction, LLC
RoviTracker
S E Pipeline Construction
San Bernardino County Dept of Public Works
Santa Margarita Ford
Savala Equipment Rentals
SCCA

SC Fuels

SECC Corporation
Shimmick Construction
Sitech Pacific, LLC
Skanska USA Civil West
Slater Inc.

Steve P. Rados Inc.

Sukut Construction Inc.

Sunbelt Equipment Rentals

Sun Pac Storage Containers, Inc.
Sunstate Equipment Co, LLC

The Laborers Training and Retraining Trust

Trench Shoring Co.
Trinity Equipment Rentals
United Rentals
Van Diest Bros. Inc.
Vance Corp.
Villa Park Leasing Inc.
West Coast Equipment
Western Rentals Inc. / Scott Equipment